Hardware components

×
1

Pololu - Micro Breadboard

×
1

Pololu - TB6612FNG Dual Motor Driver Carrier

×
1

Pololu - 50:1 Micro Metal Gearmotor HP (625 RPM)

×
2
×
1

Pololu - 4-AAA Battery Holder

×
1

22AWG Stranded Hook-up Wire

×
1
×
1

Double sided foam tape (to mount AAA battery pack)

×
1
The Particle Sumo Bot is a totally rad 3D printed Wi-Fi enabled Internet of Things robot platform! Whew. For this project I kept it simple and used a micro breadboard with a Spark Core and a Pololu motor controller, but you could go nuts with a larger half size breadboard and add some sensors. I've also kept it lean with a 4 AAA battery holder, although the chassis supports 4 AA. 
Below you can see Pebble and Particle.io make it super easy to control via your Pebble smartwatch, of if you prefer to use Node.js and your keyboard there's code here for that as well! 
Ideas: for a true Sumo Bot experience with two bots, the watch could send a START command, after which the bot completely ran on it's own. 
Ok, enough talk let's watch the first video: 

Read more
TB6612 Motor Driver Pinout
Solder in a male header to the right side. Wires go on the left side.
There is no need to use multiple GNDs, just the bottom right GND is fine.
VCC goes to 3V3 output on the Spark Core.
VMOT goes to BATT+ from the Battery Pack.
BATT+ also goes up to VIN on the Spark Core.
Spark Core GND is connected to BATT- and GND of the Motor Driver.
AO0/AO1 goes to the left motor, BO0/BO1 goes to the right motor.
PWMA on the Motor Driver will align with A6 and PWMB will align with A0.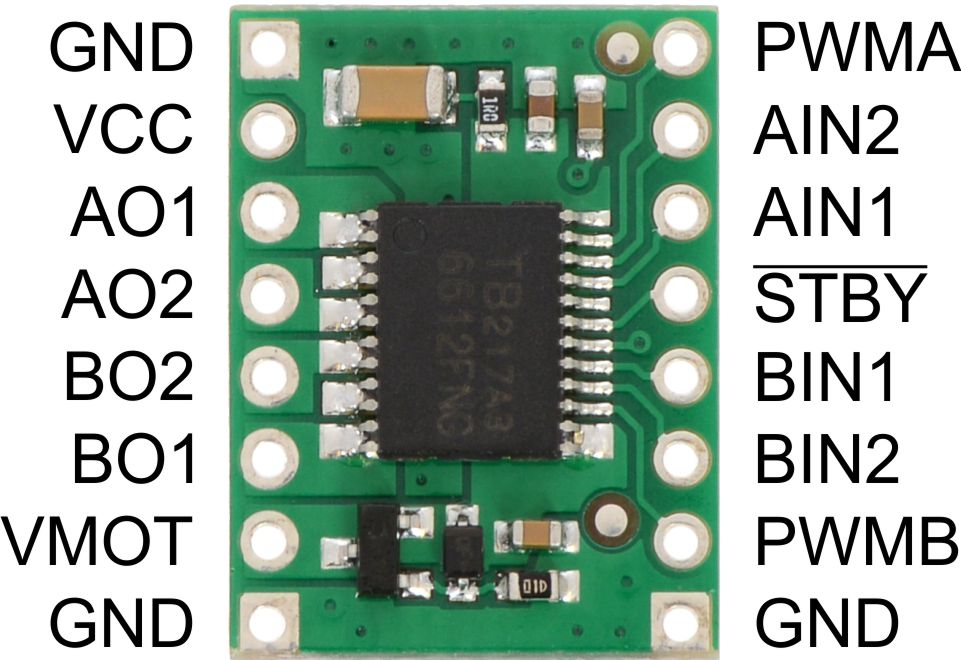 /* 




    A0 - PWMB (speed right)




    A1 - BIN2 (direction bits)




    A2 - BIN1




    




    A3 - /STBY (motor enable)




    




    A4 - AIN1 (direction bits)




    A5 - AIN2




    A6 - PMWA (speed left)




*/







#define STBY A3




#define MOTOR_L 0




#define MOTOR_R 1




#define FWD 0




#define RVS 1




#define BIN1 A2




#define BIN2 A1




#define AIN1 A4




#define AIN2 A5




#define PWM_L A6




#define PWM_R A0







int

 

_speed

 

=

 

0

;




int

 

_duration

 

=

 

0

;




bool

 

_new_command

 

=

 

false

;







void

 

setup

()

 

{




    


    

Serial

.

begin

(

9600

);




    


    

int

 

pin

;


    

for

 

(

pin

=

A0

;

 

pin

<=

A6

;

 

pin

++

)

 

{


        

pinMode

(

pin

,

 

OUTPUT

);

 
    

}


    

for

 

(

pin

=

A0

;

 

pin

<=

A6

;

 

pin

++

)

 

{


        

digitalWrite

(

pin

,

 

LOW

);

 
    

}




    


    

enableMotors

(

true

);




    


    

Spark

.

function

(

"cmd"

,

cmdRobot

);




}







void

 

loop

()

 

{


    

if

 

(

_new_command

 

==

 

true

)

 

{


        

setSpeed

(

MOTOR_L

,

 

_speed

);


        

setSpeed

(

MOTOR_R

,

 

_speed

);


        

delay

(

_duration

);


        

setSpeed

(

MOTOR_L

,

 

0

);


        

setSpeed

(

MOTOR_R

,

 

0

);


        

_new_command

 

=

 

false

;


    

}




}







int

 

cmdRobot

(

String

 

c

)

 

{


    

// c format: x,yyy,zzz,


    

// x = direction (f/b/l/r)


    

// y = speed in percentage


    

// z = duration in milliseconds


    

//


    

// fblr, forward, backward, left turn, right turn




    


    

int

 

start

 

=

 

0

;


    

int

 

end

 

=

 

0

;


    

int

 

speed

 

=

 

0

;


    

int

 

duration

 

=

 

0

;




        


    

if

 

(

c

.

charAt

(

0

)

 

==

 

'f'

)

 

{


        

setDirection

(

MOTOR_L

,

 

FWD

);


        

setDirection

(

MOTOR_R

,

 

FWD

);


        

Serial

.

println

(

"F"

);


    

}


    

else

 

if

 

(

c

.

charAt

(

0

)

 

==

 

'b'

)

 

{


        

setDirection

(

MOTOR_L

,

 

RVS

);


        

setDirection

(

MOTOR_R

,

 

RVS

);


        

Serial

.

println

(

"B"

);


    

}


    

else

 

if

 

(

c

.

charAt

(

0

)

 

==

 

'l'

)

 

{


        

setDirection

(

MOTOR_L

,

 

RVS

);


        

setDirection

(

MOTOR_R

,

 

FWD

);


        

Serial

.

println

(

"L"

);


    

}


    

else

 

if

 

(

c

.

charAt

(

0

)

 

==

 

'r'

)

 

{


        

setDirection

(

MOTOR_L

,

 

FWD

);


        

setDirection

(

MOTOR_R

,

 

RVS

);


        

Serial

.

println

(

"R"

);


    

}




    


    

start

 

=

 

c

.

indexOf

(

','

);


    

if

 

(

start

 

!=

 

-

1

)

 

{


        

end

 

=

 

c

.

indexOf

(

','

,

 

start

+

1

);


        

if

 

(

end

 

==

 

-

1

)

 

{


            

return

 

2

;


        

}


    

}


    

else

 

{


        

return

 

1

;


    

}




    


    

speed

 

=

 

c

.

substring

(

start

+

1

,

end

).

toInt

();




    


    

start

 

=

 

end

;


    

end

 

=

 

c

.

indexOf

(

','

,

 

start

+

1

);


    

if

 

(

end

 

==

 

-

1

)

 

{


        

return

 

3

;


    

}




    


    

duration

 

=

 

c

.

substring

(

start

+

1

,

end

).

toInt

();




    


    

Serial

.

print

(

"Speed: "

);


    

Serial

.

println

(

speed

);


    

Serial

.

print

(

"Duration: "

);


    

Serial

.

println

(

duration

);




    


    

_speed

 

=

 

speed

;


    

_duration

 

=

 

duration

;


    

_new_command

 

=

 

true

;




    


    

return

 

_duration

;




}







void

 

enableMotors

(

bool

 

enable

)

 

{


    

if

 

(

enable

)

 

digitalWrite

(

STBY

,

 

HIGH

);

 

// enable motor output


    

else

 

digitalWrite

(

STBY

,

 

LOW

);

 

// disable motor output




}







void

 

setDirection

(

bool

 

motor

,

 

bool

 

dir

)

 

{


    

if

 

(

motor

 

==

 

MOTOR_L

)

 

{


        

if

 

(

dir

 

==

 

RVS

)

 

{


            

digitalWrite

(

AIN1

,

 

LOW

);


            

digitalWrite

(

AIN2

,

 

HIGH

);


        

}


        

else

 

if

 

(

dir

 

==

 

FWD

)

 

{


            

digitalWrite

(

AIN2

,

 

LOW

);


            

digitalWrite

(

AIN1

,

 

HIGH

);


        

}


    

}


    

else

 

if

 

(

motor

 

==

 

MOTOR_R

)

 

{


        

if

 

(

dir

 

==

 

FWD

)

 

{


            

digitalWrite

(

BIN1

,

 

LOW

);


            

digitalWrite

(

BIN2

,

 

HIGH

);


        

}


        

else

 

if

 

(

dir

 

==

 

RVS

)

 

{


            

digitalWrite

(

BIN2

,

 

LOW

);


            

digitalWrite

(

BIN1

,

 

HIGH

);


        

}


    

}


    

else

 

{


        

digitalWrite

(

AIN1

,

 

LOW

);

  

// disable all motors


        

digitalWrite

(

AIN2

,

 

LOW

);


        

digitalWrite

(

BIN1

,

 

LOW

);


        

digitalWrite

(

BIN2

,

 

LOW

);


    

}




}







void

 

setSpeed

(

bool

 

motor

,

 

int

 

speed

)

 

{


    

if

 

(

motor

 

==

 

MOTOR_L

)

 

{


        

analogWrite

(

PWM_L

,

 

map

(

speed

,

0

,

100

,

0

,

255

)

 

);


    

}


    

else

 

if

 

(

motor

 

==

 

MOTOR_R

)

 

{


        

analogWrite

(

PWM_R

,

 

map

(

speed

,

0

,

100

,

0

,

255

)

 

);


    

}


    

else

 

{


        

analogWrite

(

PWM_L

,

 

0

);

  

// stop all motors


        

analogWrite

(

PWM_R

,

 

0

);


    

}




}



var

 

DEVICE_ID

 

=

 

'YOUR_DEVICE_ID'

;




var

 

ACCESS_TOKEN

 

=

 

'YOUR_ACCESS_TOKEN'

;







simply

.

on

(

'singleClick'

,

 

function

(

e

)

 

{


  

console

.

log

(

util2

.

format

(

'single clicked $button!'

,

 

e

));


  

var

 

command

 

=

 

''

;


  

if

 

(

'up'

 

==

 

e

.

button

)

 

{


    

command

 

=

 

'f,100,500,'

;


    

simply

.

subtitle

(

'FORWARD!'

);


  

}

 

else

 

if

 

(

'select'

 

==

 

e

.

button

)

 

{


    

command

 

=

 

'l,100,100,'

;


    

simply

.

subtitle

(

'LEFT!'

);


  

}


  

else

 

if

 

(

'down'

 

==

 

e

.

button

)

 

{


    

command

 

=

 

'b,100,500,'

;


    

simply

.

subtitle

(

'REVERSE!'

);


  

}


  

else

 

{


    

return

;


  

}







  

ajax

(


    

{


      

url

:

 

'https://api.particle.io/v1/devices/'

 

+

 

DEVICE_ID

 

+

 

'/cmd?access_token='

 

+

 

ACCESS_TOKEN

,


      

method

:

 

'post'

,


      

type

:

 

'json'

,


      

data

:

 

{

 

a

:

 

command

 

}


    

},


    

function

(

e

){

 

console

.

log

(

'ajax success: '

 

+

 

e

);

 

},


    

function

(

e

){

 

console

.

log

(

'ajax failure: '

 

+

 

e

);

 

}


  

);




});







simply

.

on

(

'longClick'

,

 

function

(

e

)

 

{


  

console

.

log

(

util2

.

format

(

'long clicked $button!'

,

 

e

));


  

var

 

command

 

=

 

''

;


  

if

 

(

'select'

 

==

 

e

.

button

)

 

{


    

command

 

=

 

'r,100,100,'

;


    

simply

.

subtitle

(

'RIGHT!'

);


  

}


  

else

 

{


    

return

;


  

}


  

ajax

(


    

{


      

url

:

 

'https://api.particle.io/v1/devices/'

 

+

 

DEVICE_ID

 

+

 

'/cmd?access_token='

 

+

 

ACCESS_TOKEN

,


      

method

:

 

'post'

,


      

type

:

 

'json'

,


      

data

:

 

{

 

a

:

 

command

 

}


    

},


    

function

(

e

){

 

console

.

log

(

'ajax success: '

 

+

 

e

);

 

},


    

function

(

e

){

 

console

.

log

(

'ajax failure: '

 

+

 

e

);

 

}


  

);




});







simply

.

setText

({


  

title

:

 

'Particle bot'

,


  

body

:

 

'Press buttons to control the bot!'

,




},

 

true

);



"use strict"

;







var

 

spark

 

=

 

require

(

'spark'

);




var

 

prompt

 

=

 

require

(

'prompt'

);







var

 

logged_in

 

=

 

false

;




var

 

DEVICE_NAME

 

=

 

""

;







spark

.

on

(

'login'

,

 

function

()

 

{




  


  

var

 

stdin

 

=

 

process

.

stdin

;


  

stdin

.

setRawMode

(

 

true

 

);


  

stdin

.

resume

();


  

stdin

.

setEncoding

(

 

'utf8'

 

);


  

stdin

.

on

(

 

'data'

,

 

function

(

 

key

 

){


    

// ctrl-c ( end of text )


    

if

 

(

 

key

 

===

 

'\u0003'

 

)

 

{


      

console

.

log

(

"EXITING NOW!"

);







      

setTimeout

(

function

(){


        

process

.

exit

();


      

},

1000

);




        


    

}







    

if

 

(

logged_in

)

 

{


      

if

 

(

 

key

 

===

 

'w'

)

 

{


        

console

.

log

(

"Forward 500"

);


        

spark

.

callFunction

(

DEVICE_NAME

,

 

'cmd'

,

 

'f,100,500,'

);


      

}


      

else

 

if

 

(

 

key

 

===

 

'a'

)

 

{


        

console

.

log

(

"Left 100"

);


        

spark

.

callFunction

(

DEVICE_NAME

,

 

'cmd'

,

 

'l,100,100,'

);


      

}


      

else

 

if

 

(

 

key

 

===

 

's'

)

 

{


        

console

.

log

(

"Reverse 500"

);


        

spark

.

callFunction

(

DEVICE_NAME

,

 

'cmd'

,

 

'b,100,500,'

);


      

}


      

else

 

if

 

(

 

key

 

===

 

'd'

)

 

{


        

console

.

log

(

"Right 100"

);


        

spark

.

callFunction

(

DEVICE_NAME

,

 

'cmd'

,

 

'r,100,100,'

);


      

}


    

}




      


    

// echo the keypress, if desired


    

//process.stdout.write( key );


  

});







});







// 




// Setting these properties customizes the prompt. 




// 




prompt

.

message

 

=

 

"SPARK LOGIN: "

.

cyan

;




prompt

.

delimiter

 

=

 

""

.

cyan

;




// 




// Start the prompt 




// 




prompt

.

start

();







// 




// Get three properties from the user: username, password and device name (no need to type in that long ID) 




// 




prompt

.

get

({




properties

:

 

{


      

username

:

 

{


        

description

:

 

"What's your username?"

.

cyan


      

},


      

password

:

 

{


        

hidden

:

 

true

,


        

description

:

 

"Now gimme da password!"

.

red


      

},


      

device_name

:

 

{


        

description

:

 

"What's the DEVICE NAME?"

.

green


      

}


    

}


  

},

 

function

 

(

err

,

 

result

)

 

{


  

// 


  

// Log the results. 


  

// 


  

// console.log('Command-line input received:');


  

// console.log('  username: ' + result.username);


  

// console.log('  password: ' + result.password);


  

// console.log('  device_name: ' + result.device_name);







  

spark

.

login

({

 

username

:

 

result

.

username

,

 

password

:

 

result

.

password

 

},

 

function

(

err

,

 

body

)

 

{


    

logged_in

 

=

 

true

;


    

console

.

log

(

'API call login completed on callback:'

,

 

body

);


  

});







  

DEVICE_NAME

 

=

 

result

.

device_name

;







});



2 projects • 19 followers
Sr. Embedded Hardware/Software Engineer at Particle, Hacker, Maker, Musician